Design for Sustaining Stewardship at Highland
Design collaborations at Highland Center are developing integrated, sustainable stewardship sets within the existing productive farm and forest.
Current Facilities
The Farmhouse at Highland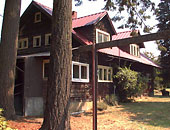 The farmhouse at Highland is in great need of renovation and expansion. Guided by master architect Banks Upshaw, fifteen years the senior designer at Arcosanti with Paolo Soleri, and with generous support from the Lamb Foundation , a three phase renovation plan for Farmhouse is currently being realized (See design by Banks Upshaw»). The Farmhouse will continue to serve the World Steward staff as well as projects and activities throughout the coming years.
The Great Barn
In August 2005, with the support of local businesses and volunteers from the community, the Great Barn was given some much needed restoration. A new coat of paint was applied to its exposed south entrance, as well as the doors being repaired. It's a fantastic space, with much potential.

The Gardens

Organic gardening is an active endeavor at Highland. Many types of plants, lavender and varieties of vegetables and lettuces are grown, harvested and locally sold to restaurants in the gorge.
The Highland Farm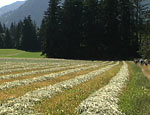 The 235 acre Highland Farm consists of beautiful fields and orchards surrounded by old growth and second growth conifer forest. It will be the staging ground for using endangered varieties of wheat grown organically on site, soil invertebrate research, and other research. Forests will be carefully harvested for projects in the Highland School of Fine Woodworking (see below).
Coldspring Farm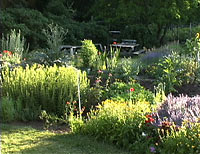 For over 30 years, Coldspring Farm is just a short drive from Highland near the Little White Salmon River. Home and office of founder and Charman Hank Patton, these properties sport beautiful gardens, organic honey, goat cheeses and livestock.
Greenhouse
The restoration of a commercial green house donated by the Stevenson-Carson School District will be once again taken up this year by specialist Adam Hyde, growing products for local markets and restaurants.
---
Planning for the Future
Over 30 years in the making, our programs in design, with Foundation involvement and your generous support, will include:
Continuation and expansion of Educational Opportunities for children and adults, incorporating our teaching methodologies.
Organic Gardening and Farming
Retreats and Educational Conferences with some of the most luminary minds of the 21st century.
A wood fired artisan bakery using Highland organically grown endangered varieties from the National Small Grains Repository in Aberdeen, WA. See design by architect Banks Upshaw».
The Highland School of Fine Woodworking exploring the diversity of master crafts that celebrate and create value from living forest without destroying it.
Production of commerical products including honey, juices, baked goods, fruits and vegetables.
A state-of-the art Invertebrate Imaging Laboratory, operated in conjunction with OSU and WSU.
Highland Commercial Community Kitchen.
TheEarthbridge Theater, seating 99 in a natural canyon performance space.
A wind hydrogen fuel cell partnership with the US Geological Survey.
Student-designed and constructed dormitories that both teach and test state-of the-art renewable energy and green building practices.