World Steward: Three Dimensions of Service
Stewardship Learning:
World Steward is committed to collaborative, placed-based, systems-aware, learn-by-doing approach to learning. Explore the relationships among science, art, culture, ecology, and local community development. Offerings will include workshops, lectures, performances, research internships, and conferences. We are just getting started.. More»
Conditional Cooperation: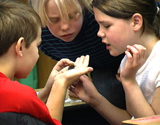 A unique opportunity and global approach to funding, forming partnerships that can sustain the productivity of land and ecosystems. In collaboration with the Eden Foundation, the bigSmall Cooperative is being developed to protect biodiversity in the context of sustainable human community.
World Steward's first endeavor is completing the Highland Center for the Art and Science of Sustainable Culture in the heart of the beautiful Columbia River Gorge, Washington, USA. Next, help build and preserve a delicate forest in Cosa Rica and other important projects that we are currently reviewing.
See how you can play a pivotal role in completing these important endeavors. bigSMALL FAQ»
Intergenerational Partnership:

A new field of economic and social entrepreneurship called Intergenerational Finance™ (IGF). Working with policy and resource specialists, coordinating an ongoing discussion about new approaches to community development for us and future generations.