Highland Center Overview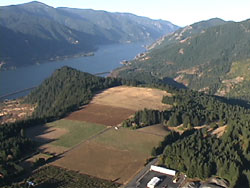 Highland Center is evolving as an interdisciplinary facility for stewardship education and research, located in the Little White Salmon Biodiversity Reserve. This dramatic interface of the Cascade mountain range and the Colombia River Gorge gives rise to complex ecological systems and the possibility of productive working landscapes.
Highland is an ideal retreat for stewardship learning, where the simple and practical patterns of beauty through utility meet the quietude of old forest. Visitors are inspired by a sense of harmony and belonging in the landscape.
Highland is the cap stone of the continuing, three decade project of the Little White Salmon Biodiversity Reserve. See USGS topo map»
Location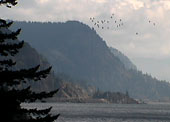 Highland Center is located near Hood River, across the Columbia River in Washington state, just 50 miles east of Portland, Oregon, through some of the most spectacular scenery of the Columbia River Gorge. Highland Center and Farm are perched 300m above the Columbia River. It is part of the Little White Salmon River Biodiversity Reserve.
Contact Information, Maps and Directions»
Education at Highland Center: Learning in the Building of it

In the spirit of Highland, the school is in the building of it; the creation of the educational facilities is itself an educational opportunity. Students and interns learn about the land by working on it, and learn about green building construction with their own hands. Everyone is a student, and everyone is a teacher, including the landscape itself.
More about learning at Highland Center»
Current Facilities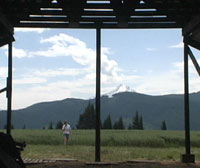 Highland Center includes a functional core of support structures for farming, education programs, and administration. The current farmhouse renovation will significantly expand capacity to deliver our interdisciplinary vision for stewardship learning and sustainable culture. Please see the past events page for a list of the many activities, workshops, and conferences that have already taken place at Highland.
More about Current Facilities and Future Plans for Highland Center»